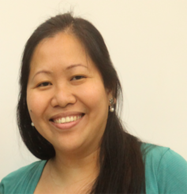 Brinerdine Alejandrino graduated from the University of the Philippines Institute of Library and Information Science in 1997, ranked 10th in the PRC Licensure exam for Librarians the same year and completed her master's in government management from Pamantasan ng Lungsod ng Maynila in 2006.

Brin has worked as a reference librarian with the Thomas Jefferson Information Center, American Embassy Manila from 1998 to 2012. She was responsible for reference service and outreach products which utilize an integrated collection of print and electronic
information resources about the United States. She currently works at the U.S. Library of Congress Representative Office in Manila, Philippines and catalogs Philippine materials.

She has been an active member of the Association of Special Libraries of the Philippines since 2004, was a member of the Board of Directors and assumed the role of Public Relations Officer in 2006, was elected as P.R.O. again in 2007. She was again elected into office in 2014 as Vice-President and was inducted President this year.