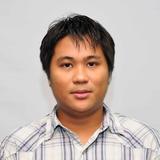 Mr. Eugene Espinoza has been in the field of librarianship for seventeen years. His interest on the field of library and information science are: Free and Open Source Software, Integrated Library Systems (ILS), Digital Library Software, Archival Systems Software, Content Management Systems, Library Services Platform (LSPs), data analytics, data migration, virtualization, database administration, video archiving, audio archiving, conservation and preservation.

He is a licensed librarian and placed 4th in the Librarian's Licensure Exam of 2005. He has worked in various archives, libraries and records offices. He was Administrative Assistant/Librarian, Health Culture and Society Project of the UP Anthropology Department from November 2005 to February 2008. He later became Librarian at the Center for Culinary Arts, Manila from February to August. Soon after, he became part of the team that started the organization of the Salvador H. Laurel Archives, where he worked as Archives Assistant from 2008 to 2010. He was Legislative Library Specialist (Legislative Staff Officer II) at the Legislative Library Service, House of Representatives from 2008 to 2015. He is over-all administrator of the cloud server of the Legislative Library and over-all in charge on the review, installation and administration of the Koha Library System. Through Koha ILS, he was hired as Library Systems Analyst/Consultant by the Food and Agriculture Organization David Lubin Memorial Library in Rome, Italy from April 2015 to December 2015. He worked as Systems Services Librarian of the De La Salle University from May 2018 to March 2019. Moving from the Lower House (House of Representatives in 2015) to the Upper House, he is currently Legislative Staff Officer II at the Senate of the Philippines.

​He was a member of the Society of Filipino Archivists from 2008 to 2016 - its P.R.O. from 2011 to 2013 and Board Member from 2013 to present. He was a member of the Association of Special Libraries of the Philippines from 2010 to 2011 and 2013 to present and held Board Member and Secretary position in the organization. He has participated in various seminars and conferences on ICT, archives and records management.

​Mr. Espinoza is a graduate of Master in Library and Information Science from the University of the Philippines Diliman and his thesis entitled "Paper Procurement Practices of Philippine National Government Agencies and Its Implication to Permanency of Records: Compliance to PNS ISO 9706:2001: Towards the Formulation of a Policy That Can Be Adopted the National Archives of the Philippines" was adjudged Best Thesis Commendation during the 2017 School of Library and Information Studies Recognition Rites, University of the Philippines Diliman.