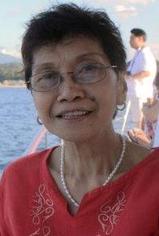 Susie was the Head of the Media Research and Development Staff of the Office of Press Secretary (OPS) in Malacanang until her retirement in April 2004. Prior to her stint at OPS, she was the Chief Librarian of the Bureau of National and Foreign Information, now known as the Bureau of Communication Services. She was the Librarian-in-Charge of the libraries of the College of Fisheries and the College of Music of the University of the Philippines (UP).

She is an active member of professional library associations. Susie was the President of the ASLP in 1985. She also became the Treasurer (1985) and Director (1991) of the Philippine Librarians Association, Inc. (PLAI) and PRO (1987-88) of the UP Library Science Alumni Association (UPLSAA).

She was the recipient of the Colombo Plan International Training on Information Storage and Retrieval System held in India. She was also a delegate at the ASEAN-COCI Young People's ASEAN Website held in Singapore.

Susie has Master's units in Library Science and a holder of a Bachelor of Science degree major in Library Science from the University of the Philippines.