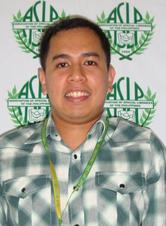 Joseph M. Yap, RL, MLIS earned his Master of Library and Information Science from the University of the Philippines Diliman, School of Library and Information Studies. He was chosen to receive a master's thesis grant by the Philippine Association of Academic and Research Librarians (PAARL) in 2010. He took his Bachelor of Library and Information Science from the same university with a distinction – Cum Laude in 2006. Prior to finishing his MLIS, he received a scholarship training program supported by VLIR Belgium named the Scientific and Technological Information Management in Universities and Libraries: an Active Training Environment hosted by Vrije Universiteit Brussel in Brussels, Belgium in 2009. He is currently working as the Senior Expert Librarian and the concurrent Information Literacy Coordinator at Nazarbayev University, Nur-Sultan, Kazakhstan.
Awards
He received the Best Scopus Journey recognition in Kazakhstan in 2018. Joseph also received two recognitions from ASLP: the ASLP Medal in 2014 and the Service Award in 2015.  De La Salle University named him one of the Pillar Achievers during the Annual Pillar of Lasallian Excellence Awards in 2013.  The UP Library Science Alumni Association bestowed the Young Achiever Award on May 2013. In July 2012, he received the SLA Asian Early Career Award given by the Special Libraries Association in Chicago, Illinois, USA.
Professional Activities
Joseph became the Secretary of Special Libraries Association (SLA), Asian Chapter in 2019 and is the Social Media Manager for 2021. He was also the former Bibliography Compiler and Editor of the Business & Finance Unit of SLA.
He is an active member of the Association of University Libraries of the Republic of Kazakhstan.
Prior to his employment in Kazakhstan, he served as the Secretary of the House of Delegates of the Philippine Librarians Association Inc. for four years, Exhibits and Poster Presentation Chair for three years, and National Book Week Chair for half a year. He was also the former Public Relations Officer of PLAI-NCRLC. He also served the UPLSAA and the MAHLAP in various capacities.
He is a steering committee member of various international conferences and a member of several editorial boards. To name a few, he is the Reference Editor of Dialogue: The Interdisciplinary Journal of Popular Culture and Pedagogy, a Reviewer and Steering Committee Member of the 2nd ADAB International Conference on Information and Cultural Sciences, and Steering Chair of the 9th Eurasian Academic Libraries Conference.
To know and read more about his research papers, visit his ORCID account: https://orcid.org/0000-0002-7852-1047 or view his Google Scholar page: https://scholar.google.com/citations?user=ZJ7FawwAAAAJ&hl=en  
Advocacies
His research interests and advocacies revolve around Media and Information Literacy. He is a member of the UNESCO MIL Alliance Working Group and an active member of the Philippine Association for Media and Information Literacy (PAMIL). He was invited to conduct seminars and workshops around this theme by various organizations and institutions such as the American Corner Astana of the Eurasian National University, MediaNet International Centre for Journalism, School of Library Technologies of Nazarbayev University Library, University of Santo Tomas, Philippine Association for Media and Information Literacy, and the Hungarian Librarians Association.  
He is also keen on looking into Sustainable Development Goals as it intersects with human rights, equality, and equity. One of the programs he adopted is the globally renowned Human Library (HL). He chaired numerous HL events and wrote research articles in this domain. He was able to speak about this in one of the American Library Association's (ALA) conference on social inclusivity and gender equality. It was because of his dedicated efforts that brought two IFLA SDG stories in the global map about NU Library. Speaking of this endeavor, he is also an organizing member of the Consortium of Gender Scholars based in Kazakhstan.
Other citations
Filipino Librarian: Joseph Marmol Yap (by Zarah Gagatiga)
Joseph Marmol Yap: a Proactive Librarian (by Melchor Cichon)
Abrigo and Yap receive Pillar of Excellence Awards
PAARL Wiki (by Fe Angela Verzosa)
AIRC staff in an international training: VLIR-UOS: ITP-STIMULATE 9