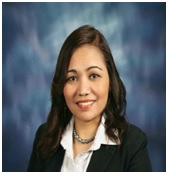 Maria Teresa M. Cabance finished her Bachelor of Secondary Education, Major in Library Science at the University of the East in 1994, and her Master of Government Management at the Pamantasan ng Lungsod ng Maynila in 2010.

She is the current Head Librarian of the Department of Labor and Employment. Prior to her career in public service, she worked at the University of the East where she started as Library Assistant in 1993. She was also promoted as Assistant Head Librarian in 1997-1999, and Unit Head Librarian in 1999-2004. Later, she worked as School Librarian at the University of Perpetual Help –DALTA System from 2004- 2005, and at the Olivarez College from 2005-2007.

In September 2007, she decided to work in a special government library at the National Wages and Productivity Commission, an attached agency of DOLE and later transfer, and promoted as DOLE Head Librarian in August 2008.

Ms. Cabance is affiliated with professional associations such as the Philippine Librarians Association, Inc., Association of Special Libraries of the Philippines, Philippine Associations of Academic and Research Librarians, Inc., Intramuros Library Consortium, and University of the East Library Science Alumni Associations.